I've been lazy in the past few months, and I've unfortunately didn't work on the pit at all in the last few months (since January 2016 to be exact).
However, As you are probably aware 2016 is a big year for VR, two major companies had launched their first consumer devices to the market. Oculus with the Rift, HTC/Valve with the Vive.
I've decided to dip my toes into the VR pool and check the water out.
Rift Pre-order had started on January 6th 2016, and in the first hour, their site crashed from the amount of pre-orders. However, I've been lucky enough to be able to squeeze in an order on the second hour, with shipping estimated in April/May.
HTC had started their pre-orders for the Vive, two months later, on February 29th 2016.
I've chose the Rift for a few reasons.
1. when I ordered it, it was the only option.
2. It is a simple system, containing only a headset and a camera, very similar to our very common TIR configuration, well suited to a cockpit usage. not a lot of un-needed features. just a basic headset, supported by DCS world (I'm flying BMS, I know..)
Now to be fair, I do not live in the US, or in any other country, the Rift or the Vive ship to. I've been using shipito as my mail relay provider for a long time now, and I'm happy with their service. So my order was sent to my virtual mail address at their facility.
Then came Feb. 22 (A few days before Vive pre-orders were opened), I've received an Email from Oculus, excited I opened it expecting a shipping date, only to discover the order had been canceled..  😯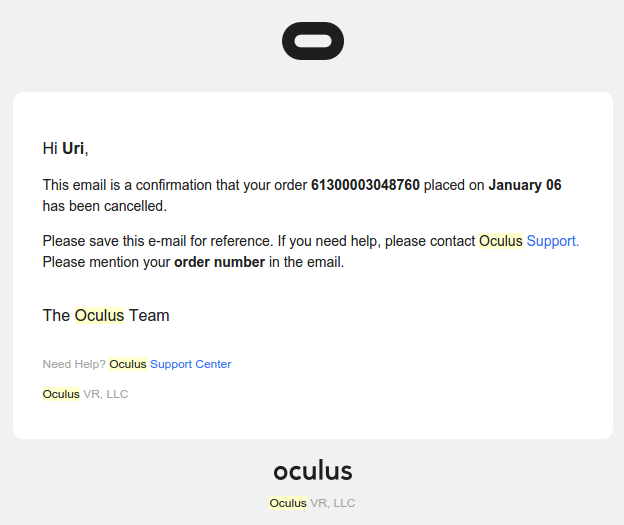 I've been checking online, at it seemed that they had cancled a pretty large number or pre-orders, most of them over the use of a mail relay. Assuming this was the case, I decided to open a ticket with Oculus support, expect them the "throw me out the door", saying they do not ship to mail relay.
I've contacted Oculus' support, asking what had happened. Their response came a week later. saying the very friendly:
I have re-reviewed the cancellation, and request that you create a new order and message me back with the order number.
OK then, it's not because of my address…
I've decided to have a look at the Vive. it allowed a room tracking, had two nifty controllers and cost 300USD more (due to shipping and taxes in the US). I decided that I'm good with what ever the Rift provides me, and placed a new order. The support had kept their promised, both order links were valid, and pointed to my original order date. sweet!
March had came and went, Oculus had announced that they are delaying shipment, and will ship the unit for free (cool, 40USD less on cost for me!).
Then in late may, I've received another email from Oculus. this time it was a shipping date window.. June 6th-16th.. Yey! I've been checking my email more regularly for the final confirmation email and shipping dates. few days later, the order disappeared from their website.. that is odd… checked email, and sure enough, yet another cancellation email!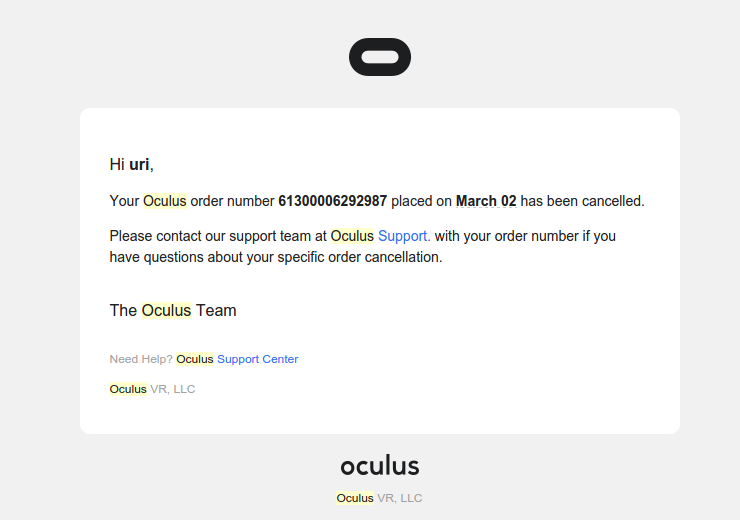 again with the ritual, support ticked, we are sorry please place a new order (will be no.3 I remind you).
We have re-reviewed the cancellation and we would like to request that you create a new order with a verified PayPal account and message us back with the new order number.

Once we have the new order number, we will insert your new order back into your original place in line.
At this point I stopped and really, really thought this out.
and decided to give them one last chance to "redeem themselves…"
I've placed a third order and attached it to the support thread as requested. this was done over the weekend. However, before any or their support staff could respond, the third order was cancelled.
At this point I had enough.
The Third order had been canceled as well without any explanation.

Thank you,
It has been a pleasure, someone else can have it, I give up.

Uri
A few days later, I've finally got a response from Oculus' support.
I'm terribly sorry that you experienced multiple cancellations with your previous orders. This is a known and extremely rare bug with our order system that we are working towards a resolution.
and He then added
The only workaround that I could offer is to change the shipping address (using a friend/family/workplace location that wouldn't inconvenience you too badly).
So aperantly it was address all along. But no one in Oculus had the sense to save both our time and tell the truth in the first place, even in this response they actually not stating the reason, only hide it in plain site.
I've put up a long polite "got f*** yourselves" response.
I'm attaching most of the tickets in their raw form down below.
At this point it doesn't really matter, as just after the third cancellation,  partly out of anger, and partly because how much technological Superior the Vive is as a VR concept (not necessarily as a product) , I went over to Vive and ordered one for myself.
But that will be covered in the next episode… (sometime in the hopefully somewhat near future)..  😯
All documents in order: